Discover more from Football Archaeology
Digging into gridiron history to examine how football's evolution shapes today's game.
Over 1,000 subscribers
Back when Twitter existed -it worked early this morning- I responded to a tweet by Pigskin Dispatch about Dartmouth's football history, and my response included an image of a bucking strap, at which point I realized I had not discussed that great tool in a previous Tidbit, so here goes.
Football coaches look for tools to simulate the action occurring on a football field and/or enhance the ability of players to execute specific tasks. Tackling dummies, blocking sleds, and ladders are examples of such tools, as is the bucking strap.
Before discussing the bucking strap, however, we have to introduce its inventor, Fred Folsom, and the nature of football when he developed the tool. Folsom played at Dartmouth from 1892 to 1894 during the height of the mass and momentum era. He then coached Colorado for seven of the next eight years before taking over the Dartmouth program for four years. After that, he went back to Colorado for another eight-year run. Between the two schools, Folsom won eighty percent of the games he coached. Colorado's Folsom Field is named in his honor.
Throughout Folsom's playing and coaching career, ball carriers running between the tackles were said to "buck" the line, and a misdirection play faking the buck and giving the ball to a back heading to the other side of the center was a crossbuck. Either way, teams primarily ran from close formations with tight splits, so holes were hard to find, and backs had to keep pumping their legs like pistons. Given the importance of the buck, Folsom developed the bucking strap to drill the pumping action. He received a patent for the bucking strap in 1906.
The bucking strap was a leather and canvas contrivance with two long belts, between which was a square harness. Two or more teammates held the straps parallel to the ground, so the harness presented a target for the running back. He charged at the target, inserted his head through the opening, and continued charging as his teammates offered resistance.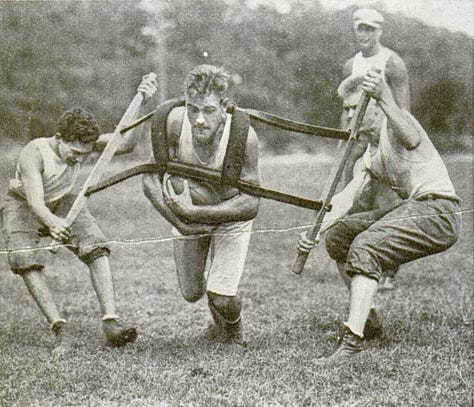 The bucking strap became popular on fields nationwide, seeing its greatest popularity in the 1920s and 1930s. They remained in use until the late 1950s when, for example, Woody Hayes had his backs use them to learn how to gain three yards. 
More recently, the bucking strap has been replaced by pulling sleds. Unfortunately, even if pulling sleds are more effective for training athletes, images of backs pulling sleds are not as cool as those from the bucking strap days. Our loss.
---
Subscribe for free and never miss a story.
Paid subscribers receive a free copy of my new book Hut! Hut! Hike! upon its release in late November-early December. Details here.